Vomitop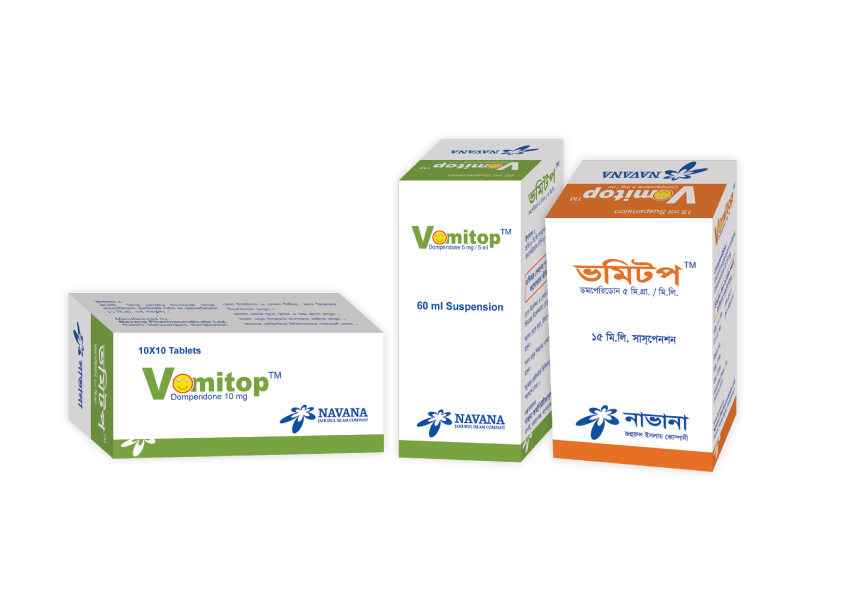 Composition:
Vomitop™ Tablet: Each film coated tablet contains Domperidone maleate BP equivalent to 10 mg Domperidone.
Vomitop™ Suspension: Each 5 ml suspension contains Domperidone BP 5 mg.
Vomitop™ Paediatric Drops: Each ml Paediatric drop contains Domperidone BP 5 mg.
Indication:
Prevention & symptomatic relief of acute nausea and vomiting of adults (from any cause specially due to cytotoxic therapy & radiotherapy).Nausea & vomiting associated with L-dopa and bromocriptine treatment for parkinsonian patients. Nausea & vomiting due to migraine, head injury, pancreatitis,gastritis, hepatitis, post-gastrectomy syndrome, haemodialysis and dysmenorrhoea. Non ulcer dyspepsia, oesophageal reflux, reflux oesophagitis & gastritis. Speeding of barium transit in 'follow through' radiological studies.
Dose & Administration:
The recommended dosage for Adult & Elderly patients: 10-20 mg every 4-8 hours.Children: 2-12 years: 0.2-0.4 mg/kg (2-4 ml suspension/10 kg) body weight orally every 4-8 hours. Domperidone should be taken 15-30 minutes before meal. Or as directed by the physician
Vitared
Composition:
Each capsule contains Ascorbic Acid BP (Vitamin C) 60
mg, Alpha Tocopheryl Acetate BP (Vitamin E) 30 mg, Zinc
(as Zinc Oxide BP) 15 mg, Copper (as Cupric Oxide BP) 2
mg & Lutein BP 6 mg.
Indication:
Eye Vitamin capsule is indicated for Age Related Eye
Diseases (ARED) e.g. Age Related Macular Degeneration
(ARMD) & cataract.
Dose and Administration:
1-2 capsules/day or as directed by the physician.